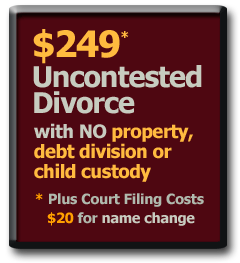 $249 Alabama uncontested divorce for settlements with NO property, debt division or child custody
Alabama attorney Reggie Smith handles your case to the end by securing your final divorce judgment. This package is crafted to meet the needs of clients who have NO property, debt division or child custody..

For over 30 years the Smith Law Firm has been helping our Alabama divorce clients find amicable solutions while maintaining our clients best interests and financial security.

The Smith Law Firm offers express uncontested divorce packages for couples married in Alabama who want to be divorced easily, quickly and affordably. Don't be fooled by the "Do-It-Yourself" online internet divorce form sellers who provide no legal advice or guidance. The "Do-It-Yourself" form sellers do not provide the complete start to finish service we provide.
Hello! This is Reginald W. Smith, Attorney at Law in Alabama. My law office offers quick and economical divorces throughout our State. My services are for those who know what they want and want it now!

I want you to know it is very possible to get your divorce turned in your favor very quickly. When both parties want a divorce, in most cases our office can have all documents delivered for signing on the same day.

After the documents have been signed before a Notary Public you will return them by United States Mail, UPS or FedEx. I will file your divorce with the Court electronically on the same day I recieve the documents back from you. The court will hold your documents for 30 days and your divorce will be signed by the Judge over your case soon after the 30 days have passed.

I look forward to speaking to you on the phone as I talk with all my clients on the phone for the personal attention to their divorce needs!
Our Alabama $249 package divorce clients receive:
Licensed Alabama divorce attorney Reginald "Reggie" Smith from start to final judgment
Necessary telephone calls with the Smith Law Firm for your satisfaction in document preparation
An affordable flat fee/fixed rate for uncontested divorce with both parties in full agreement
Complete attorney prepared settlement agreement valid in ALL Alabama Counties and Courts
After completing the online questionnaire all divorce documents will be emailed to you for proof reading and corrections
You can protect your privacy from hometown newspapers and let us file your divorce in another Alabama county
Lifetime FREE initial consultation with The Smith Law Firm on any new legal matter after your divorce
No hidden fees GUARANTEED!
Contact us today via our free consultation form or at 205-394-4252
When I reached out to Mr. Smith, being skeptical my nature, I felt somewhat unsure of whether or not his firm could deliver quickly and efficiently as advertised. Today, I can without reservation state that, he did exactly as advertised. Thank you, this was a pleasant surprise. Tate- Geneva County, Alabama August 8, 2016
5 easy steps to your Uncontested Alabama divorce
Once both parties agree they want an uncontested divorce and they know how they want the child custody, debts and marriage to be divided
ONE – Contact The Smith Law Firm and request a client interview form to be emailed.
TWO – Complete and return interview form.
THREE – We call you to go over your information and you pay the fee deposit.
FOUR – Papers are delivered for signing within 2 business days. Sign documents and return to us.
FIVE – The Smith Law Firm files documents with the court. You stay at home/work and do not go to court.
Your Divorce decree is final and delivered to you.